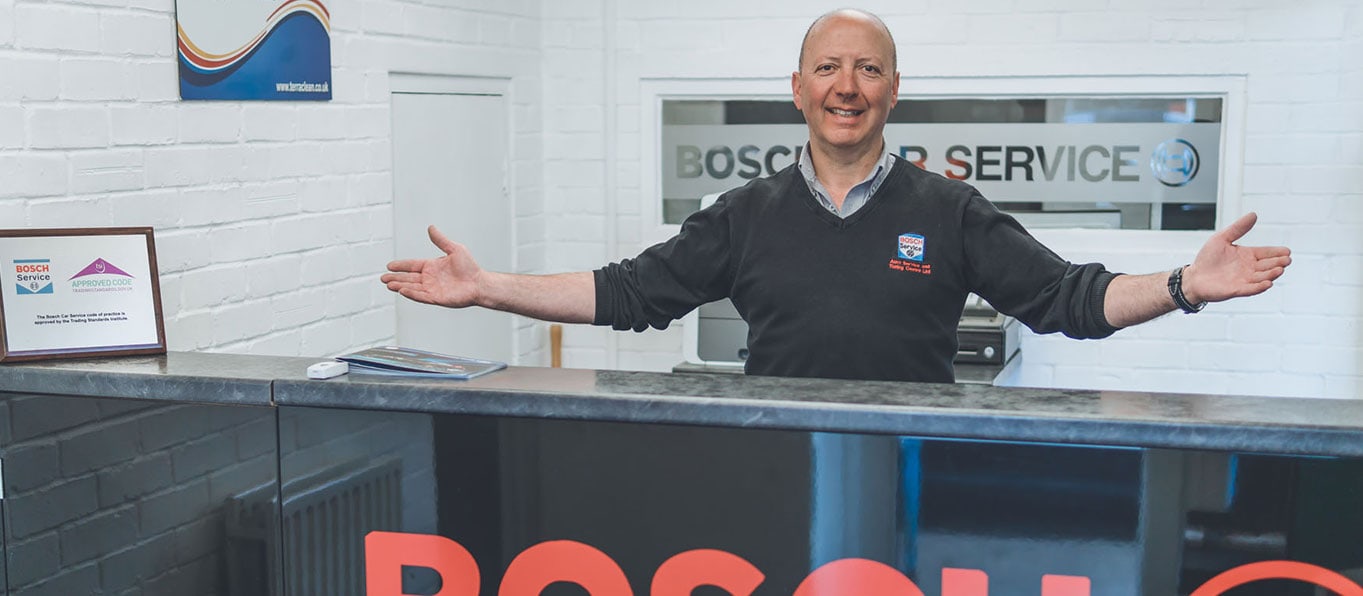 40 Years Experience as Hertfordshire's Finest
Bosch Car Service Centre
Established as Auto Service and Tuning limited, our independent garage, now Auto Service & Tuning Centre, are proud to have maintained a long-established partnership with world-renowned engineering and car equipment manufactures, Bosch.  
As a Bosch Car Service garage, Auto Service & Tuning Centre are fully equipped to provide exceptional service – from diagnostics and repairs to servicing and part replacement. Our expertly trained technicians combine technical skills developed over 40 years of work in the automotive repair industry, with state-of-the-art, Bosch approved technology to ensure our delivery of prompt, accurate remedial work and services across the board. 
Auto Service & Tuning Centre's commitment to the Bosch Code of Practice ensures our provision of the best possible technical, and customer service, at all times. Use Bosch's innovative online booking service to book your vehicle in with us today, or, discover more Bosch Care Service benefits below;
Book a Bosch Car Service
We are proud to provide fully accredited and certified Bosch vehicle servicing to Hitchin, Letchworth, Stevenage, Royston, Baldock, Bedford, Luton, and beyond. For further advice on selecting a service most suited to your car, or to speak to one of our specialists regarding any of our other services, contact us today.
Bosch Standard Service,
Delivered by Hertfordshire's German Car Experts
Auto Service & Tuning Centre guarantees our commitment to Bosch Car Service's strict code of conduct, meaning our team strives to deliver an exceptional level of service on every occasion. We're fully dedicated to: 
Delivering an outstanding technical service at an affordable price point  

Investing in, and using top-of-the-line technology and equipment  

Further training our fully qualified Bosch technicians 

Using only genuine, or high-quality replacement parts 

Providing unparalleled levels of customer care
Expert Technicians, Top of the Line Technology
Auto Service & Tuning Centre's team of Bosch accredited technicians are highly qualified in the use of advanced, Bosch developed diagnostic and servicing technology, allowing for prompt, accurate, and cost-effective diagnostics, servicing, and repair work – though, the benefits of our service go far beyond equipment and handling. 
As a member of the Bosch Car Service network, Auto Service & Tuning Centre are committed to Bosch's Code of Conduct, guaranteeing our delivery of an exceptional level of both customer, and technical service.  
 Discover the added benefits of our investments in innovative technology and training – book your vehicle in with Auto Service & Tuning Centre today using our simple online booking system, or, call one of our knowledgeable team members to further discuss your appointment.
Bosch is a very familiar name to the consumer through a variety of products ranging from domestic appliances and heating products to power tools and gardening equipment – all with a reputation for quality.
Within the realms of the automotive world, Bosch has been no less active and has supplied a variety of automotive products and systems to vehicle manufacturers for over 100 years.
Bosch is no stranger to the aftermarket either. In the UK, Bosch has operated approved repairer schemes for over fifty years. For the consumer, this experience has culminated in the Bosch Car Service programme.
The Bosch Car Service (BCS) programme is, in essence, the bringing together of all the benefits offered by a reputable local garage combined with the support and expertise available from Bosch, a global supplier of automotive technology.
The BCS network is made up of selected independent garages that are able to demonstrate an ongoing commitment to the highest levels of technical and customer service. Bosch Car Service appointments are typically family-run garages where the owner or proprietor is directly involved in the day to day running of the business.
BCS garages will, as standard, participate in a programme of quality and performance checks to ensure prescribed standards are maintained.
You can recognise a Bosch Car Service garage by its distinctive building facia signage which features the wording Bosch Car Service along with the blue, black and red Bosch Car Service logo.
For more information on the Bosch Group please refer to www.Bosch.co.uk and for further information on Bosch Car Service, please refer to www.boschcarservice.co.uk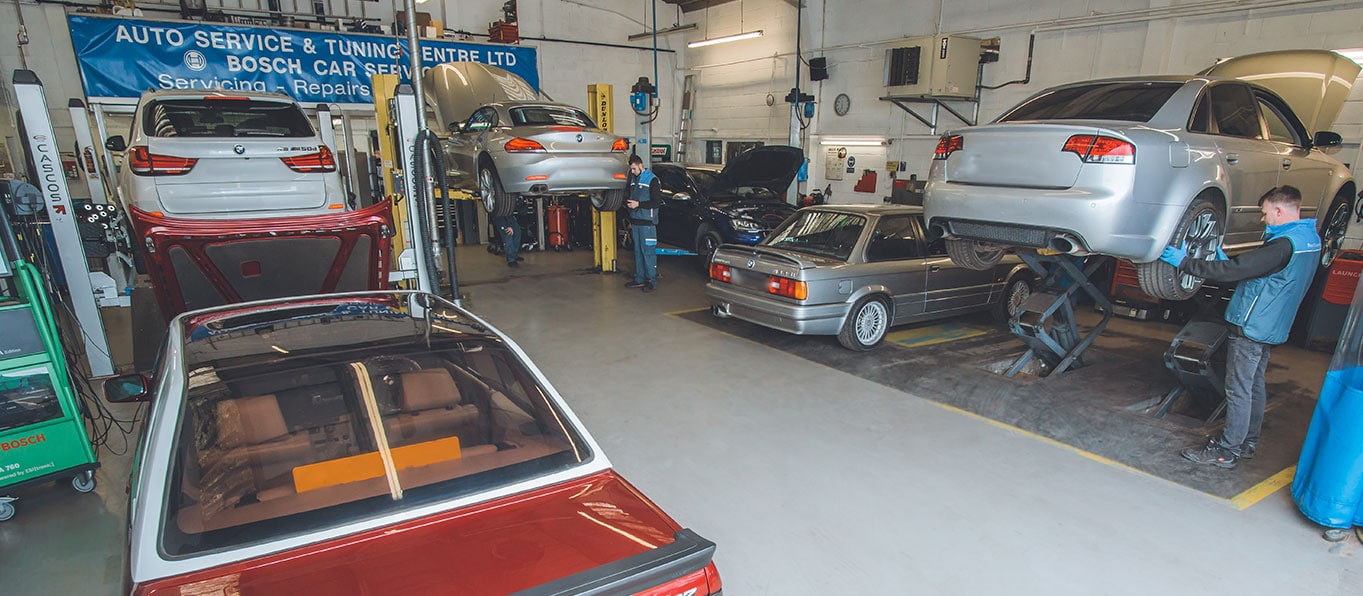 Responsibilities of a Bosch Car Service Centre
This section of the BCS Code of Practice describes the responsibilities Bosch has to ensure that the BCS garages follow the provisions of this code and also further develop the code so that it remains of benefit to the consumer.
Monitoring and Compliance with the BCS Code of Practice
To ensure that the BCS Code of Practice is adhered to, Bosch will:
Audit the Best Working Practices, Technical, and Customer provisions of each BCS garage annually.
Conduct regular anonymous visits/mystery shops to test the Technical and Customer handling skills of the BCS network.
Review and assess customer complaints and customer satisfaction feedback data to determine any need to revise this Code or take action against a BCS garage. Our scheme allows for a variety of measures ranging from actions to improve BCS garage performance through to expulsion of a garage from the BCS network.
Report and review the above monitoring and compliance activities with an independent panel so that we may ensure consistency and appropriateness of our actions.
Further Development of the BCS Code of Practice
To ensure the content of the BCS Code of Practice remains relevant and appropriate,
Bosch will:
Endeavour to keep informed of the changes in consumer expectations, Best Working Practices, and/or legislation. To this end, Bosch will consult with consumer bodies to review the validity of the Code's content and application.
Disciplinary Procedures
To ensure that compliance with this Code is enforced, Bosch will:
Subject those incidents of non-compliance which cannot be adequately addressed through the BCS quality development process to disciplinary measures.
Apply disciplinary measures that will be proportional to the nature and circumstances of the non-compliance. These will range from a detailed review discussion with the BCS garage, further detailed scrutiny of the BCS garage using a programme of site audits through to expulsion of the BCS garage from the BCS network.
In cases where disciplinary action resulted from a customer complaint, inform the customer directly of the action taken.
Ensure that all disciplinary measures taken by Bosch are independently verified to ensure that such measures are applied on an objective, fair, and uniform basis.
Our Bosch Car Service Garage Covers…
Our Bosch Car Service Centre Customer Testimonials
mr mojo
3 months ago via Google
As always great service, great guys and a very professional business
Paul Woodcock
4 months ago via Google
My petrol cap cover wouldn't open and we were due to drive to Wales in a couple of days. They had a quick look that day and fixed it for free!
Mary Marshall
3 months ago via Google
Never had any issues. They are always professional and friendly without getting too familiar or chatty.
Sophie Rose
4 months ago via Google
An excellent, efficient and personable garage always willing to go the extra mile to help out. Very lucky to have this as my local garage!
rafalicious
6 months ago via Google
What more can I say, Claude and the gang are so informative, helpful and honest, I've yet to come across a better garage. They've done countless, excellent work for me and kept me updated throughout. Simply the best!
Main Depot.
42 Wilbury Way
Hitchin
Hertfordshire
SG4 0AP
Classic Car Depot.
91A Bedford Road
Hitchin
Hertfordshire
SG5 2TT
Service hours.
Mon - Thur: 08:00 - 17:00
Fri: 08:00 - 18:00
Sat - Sun: Closed
Closed on bank holidays